Sip & Savor Argentina: A Wine Lover's Journey
March 18th – 24th, 2024
Buenos Aires
Discover the magnificent capital of Argentina: Buenos Aires.
Mendoza
Visit Mendoza: The Land of Malbec.
7 day - 6 nights
7 days with activities and 6 nights at marvelous hotels.
Starting at: $4,900
Based on double occupancy. Single option available.
Additional Chile Trip Available!
Bienvenidos a Argentina y Chile!
Are you ready to embark on a captivating gastronomic adventure, dance tango, and taste the incredible range of Malbecs?
We are gearing up to explore the culturally vibrant city of Buenos Aires and the enchanting Mendoza wine region in Argentina, and we are thrilled to extend an invitation for you to join me!
Together, we'll immerse ourselves in the rich traditions of this region and uncover the secrets behind its remarkable range of local wines.  And, naturally, we won't forget to indulge in the mouthwatering delights of Argentine cuisine. From savoring delectable parrilladas, (Argentine BBQ), to relishing homemade Chimichurri, we'll delight in the finest homemade dishes while perfecting the art of wine pairing. Visit some of the most notable wineries, and spend a day in the Andes mountains horseback riding with real gauchos (Argentine cowboys).
Join us on this delectable journey as we uncover the terroir responsible for crafting deep red wines and creating some of the world's most cherished culinary treasures.
See you in Argentina!
Meet your hosts: Ingrid and John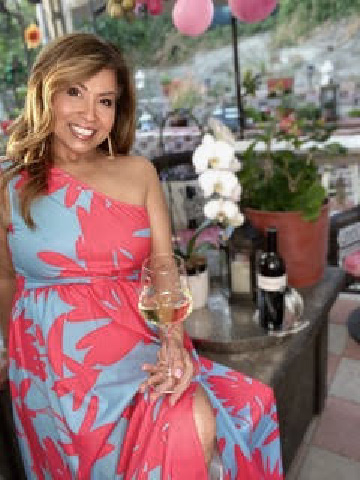 ---
Ingrid Reyes
Hola, I'm Ingrid Reyes and I've been on an incredible journey of wine-fueled by my unwavering passion for life and adventure. I live in Los Angeles, and I split my time between the vibrant wine country and the picturesque Napa Valley. My wanderlust has also led me to call Florence, Italy, New York City, and La Jolla, CA, my temporary abodes.
My affair with wine began at a surprisingly young age of 16, but let's keep that between us, shall we? Sparkling wine was my first love, and from there, my passion for all things wine blossomed. I've quenched my thirst for knowledge and fine wines by exploring the world's most renowned wine regions. From Napa Valley, Santa Barbara, and various California gems to extensive travels through France, Italy, Austria, Germany, South Africa, Argentina, and Australia, I've had the privilege of meeting extraordinary winemakers and learning from the very best.
Wine isn't just a passion for me; it's my way of life. This deep-rooted love led me to join forces with M&A Creative Agency USA, a globally recognized, multinational award-winning creative advertising agency specializing in the wine and spirits industry. As the Partner/CEO for North & South America, where I am responsible for the overall agency's business and P&L, including overseeing all clients.
In essence, wine is no longer just a part of my life; it's my life. I'm living my best wine life 24/7!
In essence, wine has become more than a passion; it is my life! It's become the symphony that sets the rhythm of my days at work, the art that colors my nights at home, and the passion that fuels my existence 24/7.
Cheers to the journey ahead, I can't wait to share with you the incredible gastronomical, wine experiences, and the many adventures we'll have in Argentina & Chile!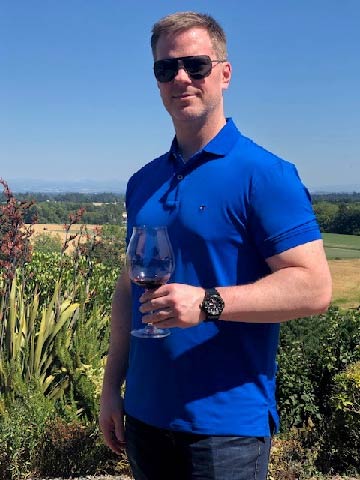 ---
John Jackson
John Jackson, also known as @AttorneySomm, is a prominent figure in the legal world as a data privacy and intellectual property attorney at an AmLaw 200 law firm. However, his passion extends far beyond the courtroom.
John is a distinguished wine expert, accomplished author, and a savvy social media creator and strategist. His captivating journey into the world of wine led him to a featured role in the acclaimed documentary "In the Dark Wine Sea," a captivating exploration of Cretan wine culture. His wine-related insights have graced the pages of prestigious publications such as Forbes and Texas Lawyer. Furthermore, John is a sought-after guest on various wine-related podcasts and even had a dedicated episode on JCB Live.
As a social media influencer, John's reach is impressive, with a dedicated following on Instagram (31,000 + followers), YouTube, (more than one million views), and Twitter (5,000+ followers). His engaging content keeps wine enthusiasts and novices alike captivated.
John's dedication to wine education is equally commendable. He holds the prestigious level 4 DipWSET wine certification with merit from the Wine Spirit Education Trust (WSET), in addition to achieving levels 1, 2, and 3. He has also earned a coveted Wines of Georgia Certification. But John's wine education goes beyond the classroom; it's a hands-on experience. He's explored over 300 wineries in more than 60 different wine regions worldwide, absorbing the essence of each terroir and varietal along the way.
In the legal realm and the world of wine, John Jackson, @AttorneySomm, is a true connoisseur and an inspiring presence. Join him on his remarkable journey through the realms of law and wine, where his expertise and passion harmoniously blend.
Join John in Argentina!
Madero Hotel
Live, love and enjoy Buenos Aires with style. Wake up in the trendy neighborhood of Puerto Madero, take a walk along the dams. Enjoy unique views of the city from your private balcony, located in the heart of Buenos Aires.
Hotel Madero reflects the avant-garde expression of modern times. During your stay, discover Puerto Madero, an exclusive neighborhood that gathers the latest trends, setting the pace of the city.
Walk along the dams, find contemporary architecture, and enjoy the best of Buenos Aires. Art, design and a unique cuisine combine in our hotel to give you a perfect experience.
Diplomatic Hotel
Located in the center of the city of Mendoza and is within a short walk of nearby attractions, including Teatro Independencia. 
The rooms have panoramic views of the city of Mendoza and the imposing Andes Mountains. Art, design, and a unique cuisine combine in this hotel to give you a perfect experience.
This 5-star hotel in downtown Mendoza has an outdoor swimming pool, gym facilities, and a sauna. It is surrounded by restaurants, wine shops, and stores. It offers a restaurant with Mediterranean dishes.
Rooms at Diplomatic Hotel offer luxury French furniture, dark wood floors, white linens, and panoramic views of the city or Andes Mountains from each room.
Discover The Full Itinerary Day By Day
Day One: Welcome to Buenos Aires!
9 AM: We will come together at the Madero Hotel and check-in.
Our first activity will be a city tour of the Recoleta and Palermo Areas.
Enjoy a welcome drink and 3-course lunch in Palermos' El Preferido or La Malbequeria restaurant where you will enjoy a traditional Argentine meal with drinks.
Visit the Recoleta where the legendary Evita Peron rests.
After lunch, we'll go back to the hotel for leisure time.
Dinner at leisure at the hotel or any of the many restaurants in Buenos Aires.
At 9:30 pm we'll head to a Tango show with drinks, and get ready for an unforgettable evening.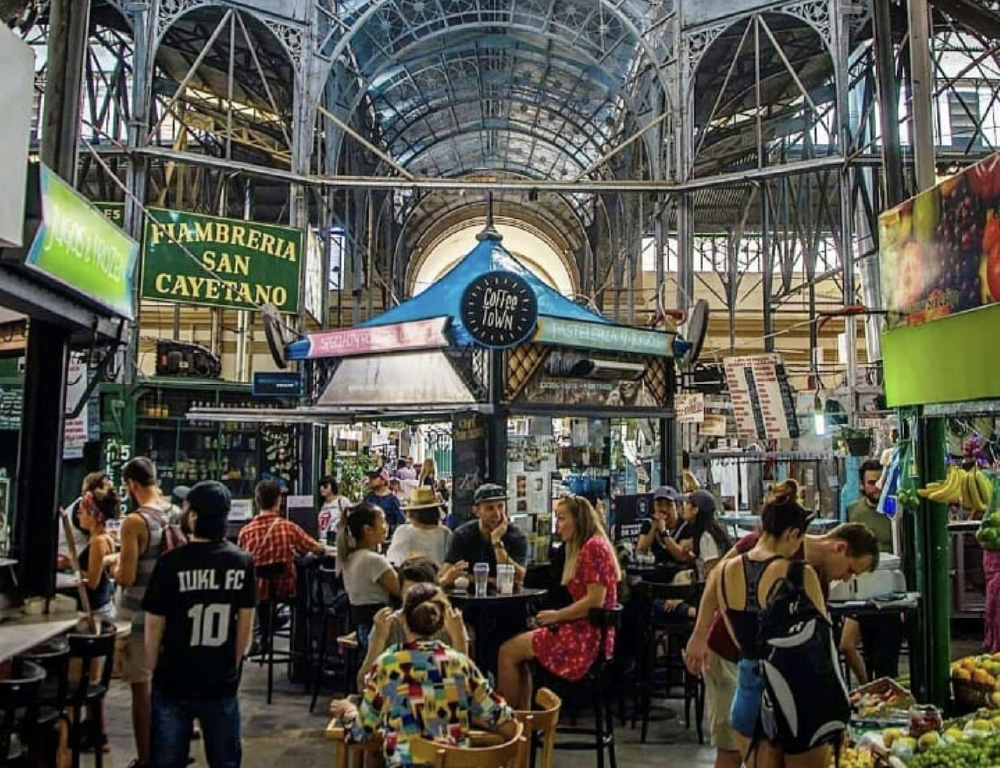 Day Two: Old Buenos Aires
Tuck into a delicious breakfast at your leisure.
Time for a morning tour of the historic and cultural city tour where we'll do the best sightseeing of old Buenos Aires, with stops at Plaza de Mayo, Buenos Aires Cathedral, La Boca, and Caminito.
Enjoy a 3-course lunch at San Telmo in the oldest barrio (neighborhood) of Buenos Aires, It is a well-preserved area of the Argentine Pop-up art galleries, late-night bars, and street murals lend old San Telmo a bohemian vibe.
Visit the renowned Colon Theater and explore the beauty of this beautiful building.
At the end of the day, we'll return to the hotel and have leisure time until the next day.
Dinner at leisure at any of Buenos Aires great restaurants.
Day Three: Welcome to Mendoza!
Fly from Buenos Aires to Mendoza, get ready for magic to happen!
Enjoy your delicious breakfast at your leisure.
Private transfer to the airport for our flight to Mendoza.
Welcome reception at Mendoza airport.
Visit the world-renowned Los Toneles Winery where you'll walk through the vineyard, visit the production area and historic cellars, before a wine tasting and 3-course wine pairing lunch at Abrasado Restaurant.
Check-in at our second hotel, the Diplomatic Hotel.
Enjoy the experience of a cooking class and a 5-course dinner at Peru 1033.
Day Four: Premium wines at Lujan de Cuyo!
Breakfast at your leisure.
Drive along the enchanting roads of the gorgeous countryside of Mendoza's wine region, with vineyards and olive groves.
Enjoy a private tour of the legendary Catena Zapata Winery, including a tasting of different vintages.
Next, we'll visit Bodega Caelum for a tasting and a tour of their pistachio farm.
Time for lunch, we'll enjoy a 5-course lunch at the stunning winery's restaurant, 5 Suelos by the Durigutti Family. This gourmet meal will delight all your senses and leave you wanting to go back soon.
Relax between sips and savors. At 4 pm we'll head back to the hotel to rest and refresh and get ready for that evening's treat!
Time for a memorable, dinner. Tuck into some tasty local specialties paired with fine wines at Casa Bermellón.
Day Five: Uco Valley. Wines with high altitude!
Enjoy your delicious breakfast at your leisure.
Today we'll drive to Uco Valley, where we'll find some of the most world-renowned Argentine wineries/highest quality wines. The area proves again and again that high-altitude winemaking yields all sorts of high-quality, elegant varietals.
Our first stop will be at Pulenta Estate, we'll tour the winery and do a wine tasting.
Followed by another great boutique winery, La Azul Winery, already renowned for its wines and restaurant, we'll tour and do a wine tasting.
Enjoy a gourmet wine pairing 4-course lunch at the stunning winery, Monteviejo where you'll be marveled by the grounds of both properties are straight out of an architect's wildest dreams.
Dinner at leisure at any of the great restaurants in Mendoza
Day Six: Andes Mountain Range. Adventures in the Andes!
Breakfast at your leisure.
This morning we'll head out on a scenic drive to the Andes mountains where we'll meet the gauchos and spend the day at a hacienda at the foothills of the Andes.
Explore the terroir of the Andes foothills from a unique viewpoint, horseback riding.
Enjoy a traditional Argentine asado, (BBQ), with wine at a local estancia.
Farewell Celebration! Join us for an unforgettable dinner as we bid adieu to our newfound friends at Sagrada Cocina restaurant. Delight in a gourmet feast complemented by fine wine in the ambiance of a century-old grand house, making this gastronomic experience truly exceptional.
Day Seven: Andes Mountain Range. Adventures in the Andes!
Breakfast at your leisure.
Transfer to Mendoza airport
OR If you are continuing to Chile with us, a bus will pick us up for a day of sightseeing and delicious treats as we make our way to Santiago de Chile.
The road from Mendoza to Chile is a gorgeous mountain scenery, (True fact: was a stand-in for the Himalayas in the 1997 film Seven Years in Tibet), not to mention vineyards on either side that stretch out as far as the eye can see. This bus journey takes travelers high up into the Andes on the Paso Los Libertadores, reaching more than 10,000 feet in elevation, passing mountain streams, endless cacti, and snow-capped peaks, including views of Mount Aconcagua (22,837 feet), the tallest mountain in the Americas. Other highlights you may spot from the bus window include Puenta del Inca, a natural rock bridge once used by the Incas.
What's Included
2 Nights at Madero Hotel Buenos Aires
4 Nights at the Diplomatic Hotel Mendoza
Bilingual Guide
Private Bus Transportation
3-course lunch with wine at Palermo Area
Recoleta Cemetery Visit
Tango Show with drinks
Buenos Aires City tour
BBQ lunch with wine at San Telmo
Teatro Colon tour
Domestic flight Buenos Aires – Mendoza
Wine Paired lunch at Los Toneles
Cooking Class Experience with boutique wines at Mendoza City
Visit and taste at Benegas Winery
Visit and taste at Caelum Winery
Gourmet wine-paired lunch at Durigutti Winery
Wine-paired dinner experience at Casa Bermellón
Premium wine tasting at Pulenta Estate
Visit and taste at La Azul Winery
Gourmet wine-paired lunch at Monteviejo Winery
Full-day gaucho experience and horseback ride at a private estancia in the Andes
BBQ lunch with wine at the Estancia
Gourmet wine-paired dinner at Sagrada Cocina
Transfer out to the Mendoza Airport
What's Not Included
Transfer in on day 1
Breakfast on day 1
Dinner on days 1,2, and 5
Checked luggage from Buenos Aires to Mendoza
Travel insurance
International airfare
For more information check out our terms and conditions.
Ready to book?
$ 4,900 per person based on double occupancy
$ 1,870 Single supplement
Book now with a $300 deposit
Second payment by December 15th, 2023
Balance payment by February 15th, 2024
Book now! Fill this form and a representative will be in touch with you: